15.11.06
HOME AUTOMATION SYSTEM : HAI – USA
Network-based Survillance & Biometrics Going Strong: Zoom in On Growth
Vivotek: runner-up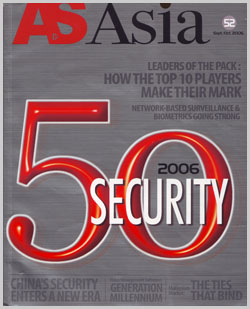 Headquatered in Taipei, Taiwan, Vivotek originally focused on the sfftware-licensing business, speacializing in audio and video
codec. In late 2001, Vivotek switched gears to system products and started its endeavor in the network-camera market.
Except for certain senior management, everyone in Vivotek possesses a highly technical background, said Owen Chen,
chairman of Vivotek.

Unlike other video-survillance companies, Vivotek did not start with CCTVs or DVRs; it went directly to video servers and
network cameras, developing its own core technology—compression and decompression of audio and video files. In 2005,
Vivotek released its first system on chip (SOC) with full D1-30 and MPEG-4 capabilities. This chip greatly enhances the
performance of an IP camera s power consumption and heat accumulation are minimized.

Vivotek spends more than US$1.5 mllion per year on research and development, making technological breakthroughs that
comprise proprietary codes and algorithms. Chen clearly shares asimilar vision with the executives of market-leading Axis and
Optelecom-NKF that the security market is moving towards high-resolution, high-quality, intelligent and video-management
software. For 2007, Vivotek plan to expand its market share in Brazil, Russia, India and China. And its future core technology
development includes H.264 SOC high compression, high-resolution IP cameras and user-friendly software development kits.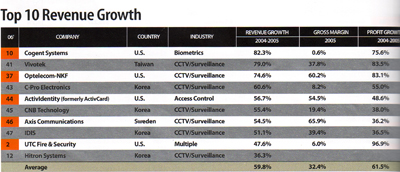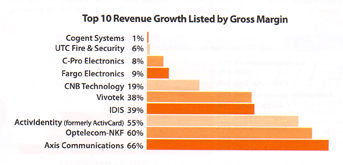 ---

10.03.06



Advantech and Intel Sign A Memorandum of Understanding Promising to Develop, Validate and Deploy Embedded Technology Solutions

Taipei, Taiwan, Oct 3, 2006 – Advantech Co., Ltd. and Intel Corporation today signed a Memorandum of Understanding (MoU)
to collaborate in the development, validation and deployment of Advantech's embedded ePlatform solutions. These solutions
will be based on the Intel Architecture (IA) embedded technology and platform building blocks, and specifically embedded to the
latest Intel CoreTM 2 Duo processors. Jointly addressing a ceremony to mark the MoU, representatives of Advantech and
Intel committed themselves to enable this cooperation in key area of Digital Security Surveillance (DSS), Factory Automation,
Medical, POS and also Gaming, etc.

Advantech already use Intel processors in its solutions. Intel provides support for all of Advantech's major application
development by providing monthly product roadmaps, bi-annual product strategy sharing sessions, technical support and
co-operation in Marketing for project-based business.

The MoU is an extension of the existing Advantech-Intel relationship and aims to help Advantech enhance all of its embedded
IA platform designs. The MoU aims to drive product development in the areas of Digital Security Surveillance (DSS), Medical
Automation and Gaming Solution segments for Advantech. Advantech's first Intel Core 2 Duo processor-based gaming and
medical platforms, equipped with Intel 965 Chipset will be launched in Q1 2007. A DSS system platform based on Intel 965
Chipset with Intel Core 2 Duo processors will be available in Q4 2006.

Jeff Chen, CTO of Advantech, commented: "Advantech positions itself as the most trustworthy ePlatform services provider.
In addition to the comprehensive product portfolio, Advantech Design To Order Services is to provide a diverse variety of
customizations, helping to develop the customer's innovations, and differentiating Advantech's services from the competition.
Advantech DTOS opens a broad customization scope for every need in the vertical market. This MoU now allows us to
strategically grow the relationship to co-develop the key vertical markets and also foster complete vertical solutions to the
market. Co-marketing between Advantech and Intel will be performed by worldwide Advantech DTOS Forum through 2006 and
beyond. Besides, Advantech is committed to help users to leverage Intel advanced commercial computing technology and
enable our partners to more easily and quickly apply Intel advanced computing technology in all their application fields."

"Intel has been a leader in embedded products for many years, and with the Intel Core 2 Duo chips, we significantly improved
performance and density of the platform while maintaining the long life cycle support which is critical to embedded applications,"
said Ton Steenman, General Manager of Intel Infrastructure Processor Division. "Performance and energy efficiency benefits
of Intel Core 2 Dual processors offer significant advantages to Advantech platform solutions which in turn will be enjoyed by
their customers."

Based on the revolutionary Intel Core microarchitecture, Intel dual-core processors expand the portfolio of high-performance,
power efficient solutions with long life cycle support for embedded customers. The Intel Core 2 Duo processors can meet the
demands of a wide range of performance-intensive, low-power embedded applications that require smaller form factors. The
processors offer the design flexibility to create new solutions and to solve small form factor design challenges typical of
embedded market segments.

Advantech DTOS Forum in 10 Cities Worldwide The Advantech DTOS (Design to Order Services) Forum is the flagship event for
Industrial Design and Manufacturing Services industry, taking place in 10 cities around the world starting from October 4, 2006.
The event brings together respected industry leaders and Advantech executives to address the importance of service
customization and introduce new technology to the market. Intel and its ODMs will be invited as ecosystem partners and
Advantech is looking forward to having Intel's market-savvy, seasoned speakers to join the forums with other industrial giants.
Advantech DTOS Forum is a series of global seminars, showcases, and matchmaking programs for industrial ODM customers
worldwide. The objective is to build an Ecosystems for Embedded Design Services and also showcase business value of Alliance
Partner and Customers. Advantech Solution Forum will take place in 10 cites around the world from October 4, 2006.
Advantech will work with Intel to create new global opportunities and develop solutions and technologies to meet
customer needs.


---